Get on the Map!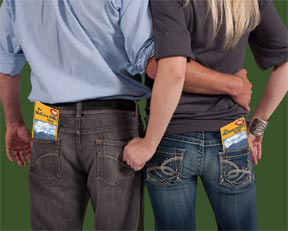 The Locals map is a lively, effective way to advertise and attract customers. The map is unique, fun and travelers love them, just look around town and you will see someone using one.

Many tourists keep the maps as souvenirs or bring them home as gifts making them a lasting and powerful way to reach potential customers. Business owners have told us that customers are finding them because of the map.

Tourists are especially attracted to the maps. Hotels and shop owners love using the map to show guest where to eat, shop or play. These maps are everywhere!

Don't miss out on advertising on the next edition of the Locals Map. E-mail us at if you would like to be on the next edition and we will keep you updated.
Ad Information
The Locals Map is printed annually. With each ad purchase you will receive a listing at your business on the map, listing in the map directory and a link on our interactive map on our website. Included in the cost of the ad is graphic design services to assist in creating an ad if you don't already have one.


Distribution
We print 20,000 maps annually and just printed the fourth edition of The Methow Valley map. The maps are free for everyone and are provided free to all advertisers and the chamber and to visitor centers in the surrounding areas.


Link the map on your website
The Locals Map online will help customers find you before they get here. We can email the direct web link to you. The link can be placed directly on your website so customers can find you on the interactive map from your website.

In the fall we will start contacting local businesses with ad and map details. Let us know if you would like to be included on our mailing list.
Back to Top